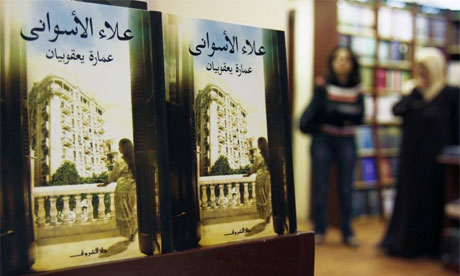 NGO claims translation of Alaa al Aswany's bestseller promotes Israeli-Palestinian understanding. But author wasn't consulted
Until last week, the Israel-Palestine Centre for Research and Information wouldn't have rung any bells in literary circles. But this changed after the Jerusalem-based organisation – which aspires to serve as an "intellectual platform for Israelis and Palestinians to create and develop new concepts ... that enrich the political and public discourse" – published a Hebrew translation of Alaa al Aswany's bestseller, The Yacoubian Building, on its website. The "rare privilege" of reading the book was offered to "(expand) cultural awareness and understanding in the region". However, the organisation neglected to seek Al Aswany's permission before acting thus.
Some context: Although Al Aswany's book has been translated into 19 languages, the author has, until now, refused to permit its translation into Hebrew. Needless to say, he was not impressed with the actions of the IPCRI. "What the centre and the translator did is piracy and theft," he told news agency AFP , "I will be complaining to the International Publishers' Association."
One cannot but sympathise with Al Aswany; breach of copyright is repugnant to a writer. It is hard to understand how this brazen act of unauthorised translation and distribution can be expected to promote understanding. But Gershon Baskin, head of the ICPRI, doesn't see things this way.
"We didn't intend to infringe his copyright, but just to get Israelis acquainted with the book," Baskin told Israeli daily Haaretz . "The question here is whether Israelis' right to read the book outweighs his copyright." High-minded as this sounds, his argument holds little water. Copyright, after all, is the expression of proprietorial rights over intellectual property; Baskin can scarcely claim the high moral ground when the property he has given away does not belong to him.
But as is often the case in this part of the world, there may be more to the dispute than meets the eye. "(Al Aswany) told me that if the book was published in Israel and there were royalties, he would give them to Hamas," Baskin claims. "(The) cultural boycott of the Hebrew language which he supports or is forced to support is a form of cultural terrorism, which I don't have to agree to."
On this point, at least, both parties are in agreement. Al Aswany is equally emphatic on this point: "My position has not changed regarding normalisation with Israel. I reject it completely," he told AFP.